In a surprise twist in the tale of a smiling Gambia happy to see the exit of President Yahya Jammeh from power, the Gambian strong man suddenly announced his rejection of the outcome of the December 1, 2016 election, even though he had previously called to congratulate his opponent.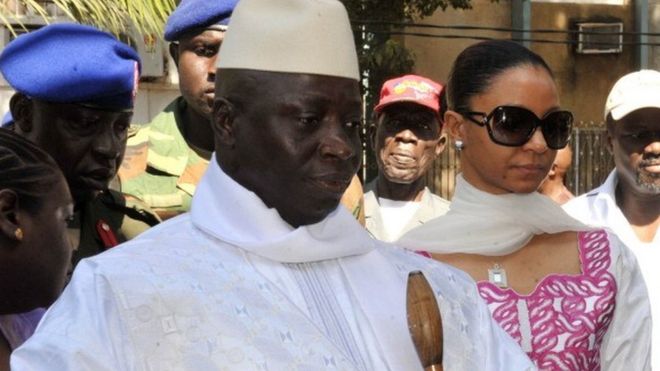 In what many considered an act of treachery, the President, who had been on the seat for the past 22 years, addressed the public in a televised broadcast, saying he would not accept the results of the election and that he wanted the election to be re-conducted.
"I have decided to reject the outcome of the recent election. I lament serious and unacceptable abnormalities which have reportedly transpired during the electoral process. I recommend fresh and transparent elections which will be officiated by a god-fearing and independent electoral commission," he said. This singular move took the smiles off the face of Gambians.
Jammeh's defiant posturing came after the leadership of the country's new ruling coalition accused him of sundry crimes, saying he would be prosecuted. It is apparent, according to some critics that Jammeh's rethink of handing over power may have been motivated by this declaration.
Many are of the opinion that the opposition party of Adama Barrow, which is to take over power, spoke too soon and fast on plans to persecute the outgoing president saying they showed their hand too quickly as a group out to pursue vendetta than lead a glorious Gambia thus prompting Jammeh to abandon honor in place of self-preservation, including saving his acolytes from revenge seeking political hounds.
Democracy in Africa, as an adopted system of government has been widely discussed and idealized by several great foreign and African scholars, Nigeria's Professor Ben O. Nwabueze eulogizes  democracy; democratization, as not just a system of "multi-parties" but a system also concerned with conditions such as a virile civil society, a democratic society, a free society, a just society, equal treatment of all citizens by the state, an ordered, stable society, a society infused with the spirit of liberty, democracy, justice and equality."
Perhaps Nwabueze's idea of democracy is still far off Gambia as the ones smiling citizens have been thrown into tensions, turmoil and anxiety for fear of uncertainty. The outpouring of joy that greeted Barrow's victory and Jammeh's initial concession came to a halt when Jammeh said he would not tolerate any demonstrations and warned that there would be serious consequences for anyone who went against him. Barrow has openly expressed his disappointment in Jammeh's action while pointing out its illegality saying;
"We want him to step down immediately so that we can move forward," Barrow told the Guardian. "He lost the election, called me, swore to the Qur'an and said: 'I am a Muslim, I have faith, I lost the election. I have accepted it in good faith and our electoral system is the best in the world. No one can rig it.' We want him to step down because he has put himself in a very funny position, in a tight corner."
Barrow further said Jammeh, "has a legal team and advisers and ought to know better. He doesn't have the authority to annul the results. We were very disappointed for a sitting president to behave that way, but we believe that he made a mistake and he doesn't have the authority to do that."
Gambians and foreigners alike fearing possible outbreak of civil unrest are leaving the country. The Chairman of the Election Commission has reportedly fled Gambia for fear of his life.
Presently, there is constant military patrol in The Gambia and there are sand bags being stacked up in strategic areas in Banjul, the capital city.
There has been an outcry from concerned groups and individuals, one of which is the Human Rights Watch, (HRW) a Nongovernmental Organization that has tasked itself with all aspects of human right and reportage. The HRW has called out ECOWAS (Economic Community of West African States) and the AU (African Union) to step into the matter and protest against any unlawful attempt to subvert the will of the Gambian people. A representative of the NGO, Babatunde Olugboji, also said "It is essential that during the political transition Gambian security forces continue to show respect for human rights and the rule of law."
The Gambian debacle is the opposite of what happened in Nigeria during the 2015 general election. The then sitting President, Goodluck Jonathan conceded defeat to Muhammadu Buhari despite obvious and glaring irregularities, such as underage voting and result falsifications in most parts of Northern part of Nigeria. It is no wonder that the former president has continued to receive commendation for conceding peacefully. He has received notable awards from Local, Pan-African, and International organizations and institutions.
As it is now, uncertainty looms over Gambia like a dark cloud; whether the cloud will dissipate or unleash the dogs of war is yet to be known. Some political commentators have advised that Jammeh should emulate Nigeria's President Jonathan and also make a deal of immunity with Adama Barrow.
Jammeh has been very fortunate to survive every aggression by both domestic and foreign opponents of his regime hence it would have been best that he takes the honorable part of bowing when the ovation is loudest. He should stop acting like a tenant who thrashed a house before his final eviction. At 51 he should be thankful that he ruled Gambian for a solid 22 years during which period he brought fame and honor to Gambia. He could spend the remaining part of his life serving Gambia as a father and statesman.
But given his current intransigence, it is obvious that his political fortunes are fast dwindling to ignominy and his future uncertain with every passing hour.
Given this strong global reaction to his loss, it is important to reflect on the fact that the Gambian people have made their choice and the world community is strongly supporting this choice.
Jammeh should ensure a smooth transition and affirm his conviction that the wisest course of action available to him is to undertake a process of respecting the commitment he made on national television on December 2nd 2016 that he will work with the President elect for the good of Gambia. He must understand there is life outside power. The new leadership must eschew bitterness and any act vindictiveness against the outgoing president. They should focus on the future of a new Gambia first.