It hasn't been an easy week at the White House.
US media reported in recent days that the president revealed highly classified information to Russian officials. It also quoted a memo by former FBI chief James Comey in which he says Mr Trump asked him to drop an inquiry into links between ex-national security adviser Michael Flynn and Russia.
Mr Trump defended his "absolute right" to share "facts" with Russia and said he asked Comey to "find the leakers in the intelligence community".
His supporters are throwing their weight behind him on Twitter, criticising the "mainstream media" or "MSM" and drawing mock-ups of the memo's contents.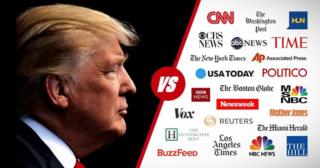 But the president's critics also tweeted in force with many forecasting what the upcoming White House press briefing would look like amid the controversy.
One of the most popular tweets shared by supporters of the president was a clip of Fox Business host Lou Dobbs saying: "The determined forces of evil that surround the White House are trying to destroy the Trump presidency. This is a war dammit, so go to war now."
Some images shared on Twitter juxtaposed Mr Trump and his Make America Great Again campaign hat against a series of news outlet logos – some of which the president has vilified – with one tweeting: "Don't let this Russian Tall Tale from the #MSM side track our mission."
"I just found a memo I wrote last year. It's a matter of national security, so I'm giving it to the @nytimes instead of the DOJ," one Twitter user elaborated.
Another supporter of the president added: "With all Comey's insightful memos, there just has to be a few dozen regarding the Loretta Lynch Bill Clinton Tarmac extravaganza."
It was referring to former Attorney General Lynch who was strongly criticised in 2016 after it was revealed she met privately with former President Bill Clinton at the time of an investigation into Hillary Clinton's private email use.
There were also hundreds of thousands of mentions on Twitter of Seth Rich, a Democratic National Committee staffer, who was killed in Washington DC in July 2016 and whose death has been subject to conspiracy theories from the alt-right.
Last week, some Twitter users were consumed with a report which said Spicer had been hiding in the White House bushes when news broke of Comey's firing. The report in question was later amended to say he was "among" the bushes.
One Twitter user shared a screen grab of a tweet which said: "John McCain probably revealed less to the KGB in five+ years of torture at the Hanoi Hilton than Trump did in five minutes in the Oval."
BBC